Venturing into one of British Columbia's most remote valleys , set in the Central Coast of The Coast Mountains is enough to make you wonder what else calls this beautiful and wild place home….. Bella Coola BC is one of Western Canada's most breathtaking and untapped natural paradises, home to deep glacial carved valleys, steep granite walls, giant Cedar Trees, towering Coast Mountains and an abundance of Grizzly Bears…..
Bella Coola BC , is one of Yoho Adventures most favorite destinations in the whole of British Columbia, offering an incredibly inspiring backdrop for limitless adventure opportunities. One of which , is going to view the Grizzly Bears. The Atnarko River is a major Salmon Spawning River, which come  fall time, attracts year after year an abundance of Grizzly Bears. The Bears come down from the alpine to feast and fatten up on the spawning Salmon before winter hibernation, which makes for the perfect opportunity to view these amazing creatures in their natural environment.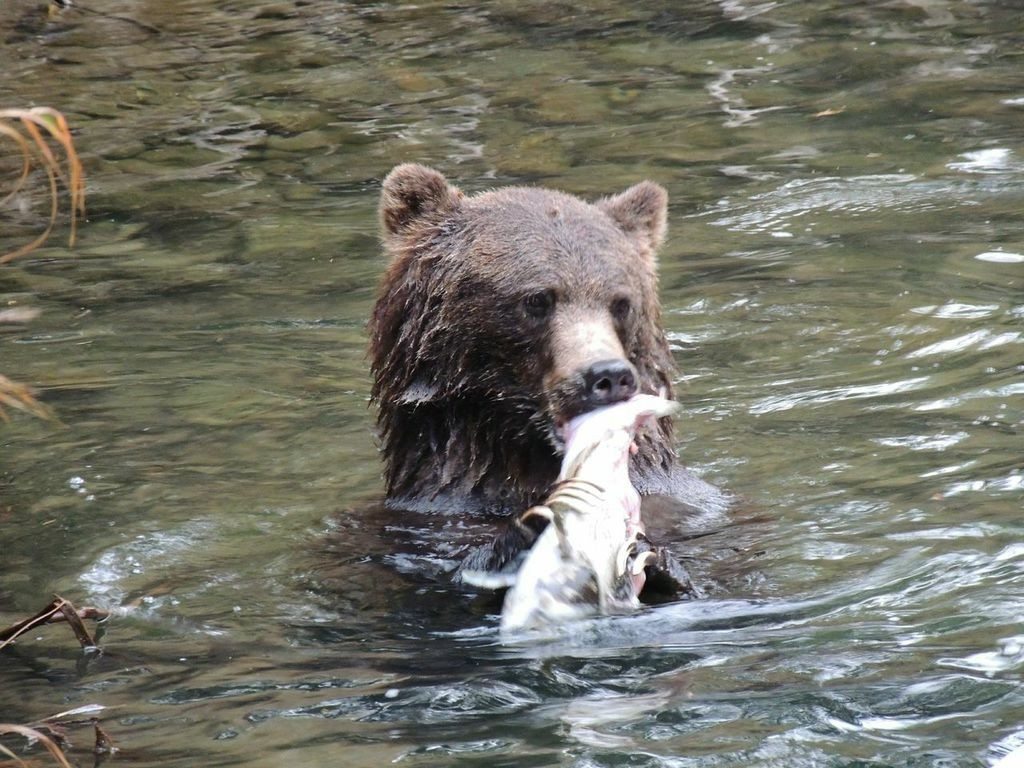 No need to stand behind bars or from a high platform, our small group trips allow you to get out on the rivers , in a small raft, as you float down the river past Grizzly Bears Swimming, diving, feeding, sleeping…. You never know what kind of action you will find while on the float! We team up with actual Bear Biologist's, who know these animals and their behaviours well. The Biologists and  Bear Viewing guides  offer an exceptional insight into a Grizzly Bears' behaviour and lifestyle. These trips offer a personalized small group experience, that get you close enough for comfort to these beautiful strong King's of the Canadian Wilderness.
Its National Geographic style, one minute your enjoying the scenery, having a rest and before you know it, 2 cubs come rolling out of bushes with mum not far behind…. Im sure many people have never heard the noises of what a cub sounds like, nor a big Sow chewing apart and crunching down on a 30 pound Salmon.
Its an experience of a lifetime. A  Canadian Adventure Trip wouldn't be complete without a journey to discover someone in the bear family,  let alone a mighty Grizzly Bear. Our BC  Adventure Tours are created to offer truly unique adventure experiences for the active traveller, that delve into untapped and remote wilderness areas. You can join in the fun on our 7 Day Coast Mountain Getaway Trip, taking place in the late summer and fall months of August and September. This is the ideal time for Grizzly Bear watching on the rivers in Bella Coola. Its also the optimal time for alpine hiking in the Canadian back country, and British Columbia's Chilcotin and Coast Mountains. This trip offers an inspiring 4 days in the alpine of the West Chilcotin, and 2 nights in the remote coastal valley of Bella Coola.  The Cariboo Chilcotin Coast is truly a remarkable untapped wilderness region offering nothing less than the best alpine hiking in BC, unlimited adventure tours,  and is home to Yoho's favorite playground where our  exclusive Canadian Adventure Trips take place.
0